So earlier today, I was sitting here drooling over the awesome images at my favorite online hangout, Pinterest, and I came across this source of inspiration – Chalk It Up
I got so inspired that I went to my treasured trunk of favorite things and I searched through allowing the inspiration of the moment to guide me.
Suddenly, I saw him….
Sweet baby blue…
One of the lovely Kathe Kruse doll/puppets that were popular, oh, around 15 years ago when this belonged to Zachary.
Some of you may remember, way back when, that I had a catalog of waldorf toys.
Remember?
It was called Hedgehog Farms, and I stocked hundreds of such dolls for Waldorf Inspired families all over the world…  (I wanted to link to the site, as just about 6 months ago I ordered some lovely beeswax crayons from them, but the url had no site.
I did find them on facebook however, with only 15 "likes" (If you are feeling like sharing some love right now, go there and like their page!)
But no matter how many lovely dolls came to visit our home, it was each child's first doll that remained their playmate.
For Zachary is was his "Pippi Longstocking" made by Truth's Dolls in Sebastopol, California.
I remember going to Truth's house and he was so drawn to Pippi. She was small, 12″ and I had intended for him to get a boy – but I appreciated his choice and care in picking out her petticoat and dress…  Wow… writing this just transported me into the land of memories, and joyful tears.
My baby is now 20.
Pippi still lives in his room.
She sits high on his shelf and longingly stares at him hours at a time as he sits and writes his programs and presentations for his coaching and trainings.  A lot of bigger girls come visit now, too, and they all remark how cute she is. I cannot decide if she likes the attention or dislikes "those" girls.
But I know a secret….
I know that she is and remains his first love.
Aside from his amazing mom, that is.  😉
At least that is how it is in my mind.
But, as I was saying….
We had many dolls around and some were just too cute to part with and they have lived in a precious trunk ever since.
This baby boy blue is one of them and for whatever reason, he wanted OUT of the trunk and into the hands of a lively child who will kiss and snuggle and love, love, love to play with him.
So here it is… he is the latest "PRIZE" for another contest I have decided to have in honor of summer sun, family fun and waldorf creativity.
Welcome to the official page for my WALDORF CHALK ART CONTEST .
There are 3 rules to enter.
Must be chalk art.
Must include your wee one (or your pet – if you can get him/her to pose long enough) or your mom….
Must upload to flicker group page or email images to me. Just get creative with your interpretation of waldorf chalk art and include a live being.
The contest will end August 12th and I will personally pick the winner based on – well, the same type of intuitive inspirational spark that made me choose this Baby Boy Blue and book for this contest. (*Creativity, originality, true to waldorf, positioning of people and/or pets, etc will also be consider.) …and incidentally, I will be posting and sharing your creative entries.
FIRST PRIZE winner will receive our precious Baby Blue Boy doll, and for mom, my copy of Expresso For Your Spirit Hope and Humor for Pooped Out Parents by Pam Vredevelt.
SECOND CHANCE CONTEST entrants merely need to share a comment answering the question in short essay form (one paragraph will do)  "Why I Love Waldorf Style Art". Winner of 2nd Prize will be drawn on 8-12-2012 at random from a hat and will win a set of lovely Waldorf Cards from Wynstone's Press in England.
*By entering this contest you acknowledge and agree to have your image and first name posted on this website. Send your image to theageofattraction @ gmail.com with the subject heading WALDORF CHALK ART CONTEST.  You may enter as many times as you wish – however just ONCE A DAY and each day a UNIQUE CHALK ART.
*Help page for adding to the flicker group page.
Good Luck!
THE ENTRIES….
Our very first contest entry to consider comes from Jill who writes:  "You have to know that all three of those boys got heavily involved in this project. They were all very colored when all was said and done. I have never really tried Waldorf chalk art before, just water painting. This was fun. Our Homeschool name is Acorns 'Round the Table and so this was supposed to be a table that they were sitting at, and they are my acorns, and there are some on the table too."
So beautiful Jill – I love the personality in each of the boys. Awesome… that laugh is precious. Thank you for being first!
******************************************************************************
Ok, this is all the same art work, my oldest son that is pictured here came up with it. He wanted to do a rainbow across the whole street but I didn't think we had enough chalk! LOL
The middle boy pictured in the first picture colored the sun himself and used his hand to blend it all. Really cool looking.
Do you have any idea how hard it is to color on that stuff??
So this is our second entry! We had a lot of fun. (Except the thorn in one little guys foot! Ouch!)
We have a blue moon and the sun, under the rainbow, we used glitter over the whole thing but it didn't really show. Bummer. So they are either walking over the rainbow of sitting under it. Their idea, I just helped them!Sincerely,
Jill Meyer
More beautiful images Jill… Thank you!
******************************************************************************
Woo hoo – another entry! This one comes from Jamie who writes:
I got inspired today, after reading through the Waldorf birthday story again; the one where a child is in heaven and when the clouds part the child sees the beautiful earth and a wonderful mother wanting a child. The child asks his angel if he can go down to her, then the angel tells the child to go to sleep, and after 9 moons waxed and waned the child descends to his mother on a rainbow bridge connecting the heavens and earth.
This is also very symbolic to me, as my son in the picture is about to turn 7, a time when his feet fully come out of the heavens and plant fully onto the earth. Here is a chalk art of my oldest "angel" coming to me and planting his feet firmly on the ground (sniff sniff, smile)
Jamie
P.S. I was finishing up as it started to rain so my son is being a real trooper as I take pictures and he's getting raindrops in his eyes
Thank you Jamie… We love it!
******************************************************************************
Then we received this from Amanda, who shared:
Here is my baby blue eyed Sebastian helping draw a self-portrait!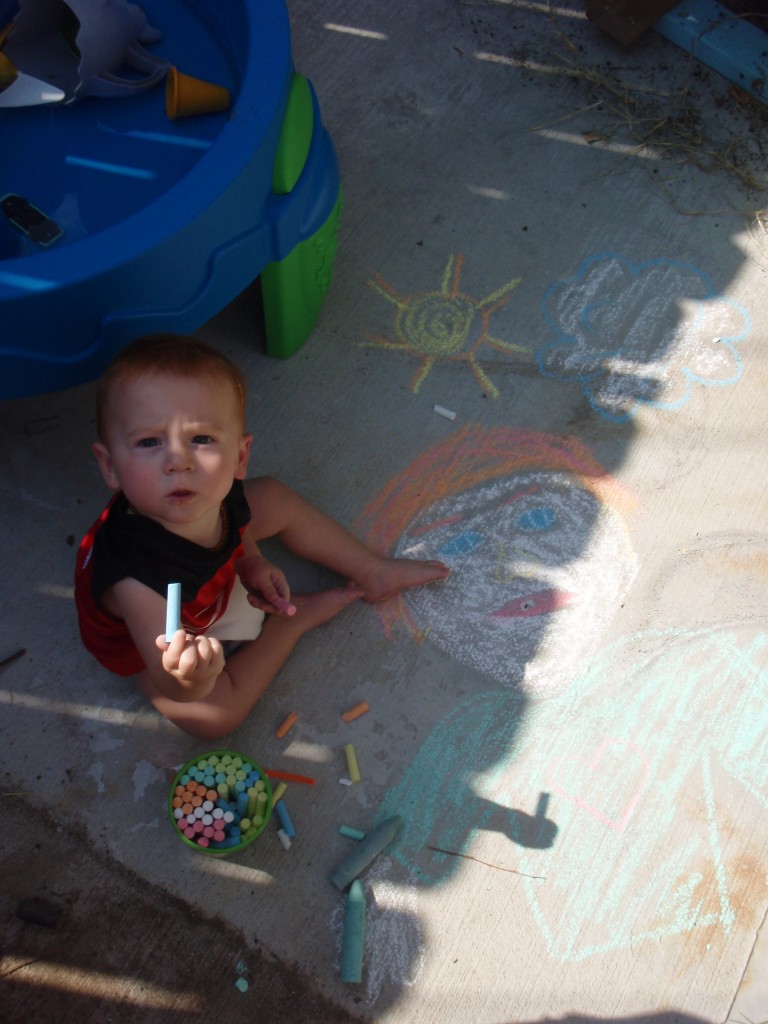 So sweet… Thank you!
Who else is willing to play?  😉
******************************************************************************
Amanda is inspires and sends another entry! She writes…
Today we are drawing repeating patterns! Sebastian was so excited when he drew 3 white stripes!
Thank you for playing!
******************************************************************************
Rachel came in at the last minute – but played all out and involved the cousins too!  She writes:
Sorry for the eleventh hour entry; we had to wait until we visited Vance's grandma, since she's the one with a sidewalk good for drawing on. As a bonus, two of his cousins were there, and wanted to play too!
First we tried to do a butterfly. Vance wasn't too sure about laying down, but I did manage to get one shot of him doing so, even if the angle was strange. Jordan was much more excited about being a butterfly. Then Connor and Jordan really wanted to ride a sea serpent, so we tried that.It was tricky fitting everyone on, but we managed. At the end of the day we had some silly pictures and we were covered in chalk dust, but we had a ton of fun. (Also, I did get permission from Jordan and Connor's mom to have them participate, including having their photos shared online.)
Awesome to see all of the little ones participating, working together and having so much fun!
Thank you – to ALL of the entrees. Winner will be posted tomorrow.
********************************************************************
And the winners are….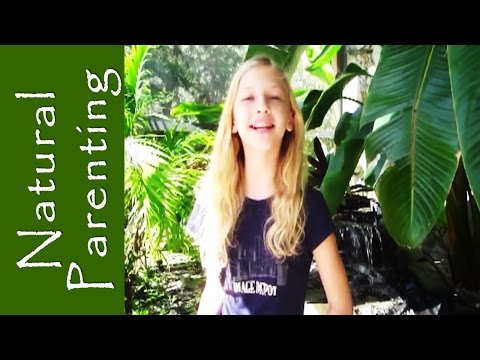 Related Articles
Share
About Author
(4) Readers Comments